NeNe Leakes is a housewife once again and her wedding day definitely turned out to be the star studded event everyone expected! Many of the famous guests have already been tweeting pictures since arriving in Atlanta. Bravo's cameras were there capturing every moment for I Dream of NeNe, so luckily we'll all get to see it for ourselves in a few months. Details and highlights from her extravaganza are included below. All credit to StraightFromTheA.com and their impressive intel.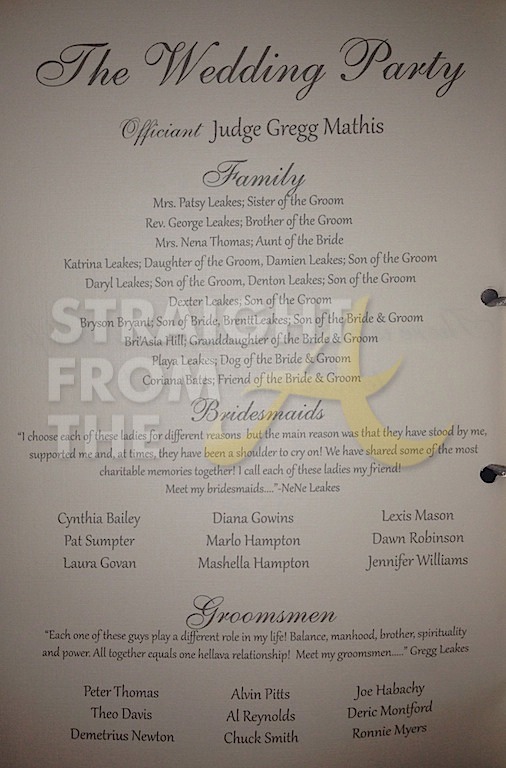 According to the wedding program, family of the wedding party included: Patsy Leakes (Sister of Groom), Rev. George Leakes (Brother of Groom), Nene Thomas (Aunt of Bride), Katrina, Damien, Daryl, Danton & Dexter Leakes (Greg's children from his previous marriage), Bryson Bryant (Nene's son from previous relationship), Brentt Leakes (son of bride & groom), Bri'Asia Hill (Granddaughter), Playa Leaks (Dog of bride & groom), Coriana Bates (Friend of Bride & Groom).
Bridesmaids: Cynthia Bailey, Diana Gowins, Pat Sumpter, Lexis Mason, Marlo Hampton, Dawn Robinson (EnVogue), Laura Govan, Mashella Hampton, Jennifer Williams.
Groomsmen: Peter Thomas, Chuck Smith, Alvin Pitts, Al Reynolds (Star Jones' Ex-Husband), Joe Habachy, Deric Montford, Ronnie Myers, Demetrius Newton, Theo Davis.
Nene's fellow RHOA cast members Phaedra Parks, Porsha Williams, Kandi Burruss, Mama Joyce, as well as a very pregnant Kim Zolciak and Kroy Biermann were in attendance. Walter Jackson was in attendance for Nene & Gregg's wedding, however oddly enough, Kenya Moore (who was recently evicted from her Atlanta home) was not.
Other guests of the bride & groom included: Vivica Fox, ex-RHOA Lisa Wu, Victoria Rowell, Omarosa, Marysol Patton (Real Housewives of Miami), Gretchen Rossi & Slade (Real Housewives of OC), Tameka Raymond, Jazze Pha, Teresa Caldwell(Bow Wow's Mom), Michelle Epps (wife of comedian Mike Epps), She Buchanan (ex-wife of former Falcon Ray Buchanan) and, Jill Zarin (formerly of Real Housewifes of NY). There were several seats reserved for 'special guests' who didn't show up. ie. Dr. David Whiteman (Nene's plastic surgeon) and Andy Cohen (who Nene toasted during the reception).
The bride wore white… and was walked down the aisle by her two sons, Bryson and Brentt.  All of the bridesmaids wore white as well. Things reportedly became very emotional during the processional when Brentt, Nene's youngest son, started crying. He and Greg had a moment and started crying together as the crowd barely contained tears themselves. I heard that during the vows, Nene refused to repeat the standard 'for richer or poorer' line, opting instead only for 'RICHER'.
There was a huge reception held following the ceremony and guests were treated to an open bar.  Security lightened up a bit after the reception and a few guests sent out photos. Sources say Nene's BFF Cynthia Bailey partied with plenty of alcohol so y'all can go ahead and ditch any doubts surrounding her recent pregnancy denial.
Gregg presented his lady love with a huge sparkling portrait of herself, which is made out of some type of crystal. And then… as if on cue, he says "we started from the bottom now we here' and the DJ then plays Drake's hit song of the same name. As an added bonus, Gregg surprised Nene with a performance from Fantasia Barrino, who wowed the crowed with 3 live performances for the new couple.
The wedding guests partied at the Intercontinental Buckhead hotel until the wee hours of the morning but many had reserved a night at the hotel. Tomorrow, the celebration continues with a brunch held in honor of the newly RE-married couple. No word yet on the honeymoon plans.